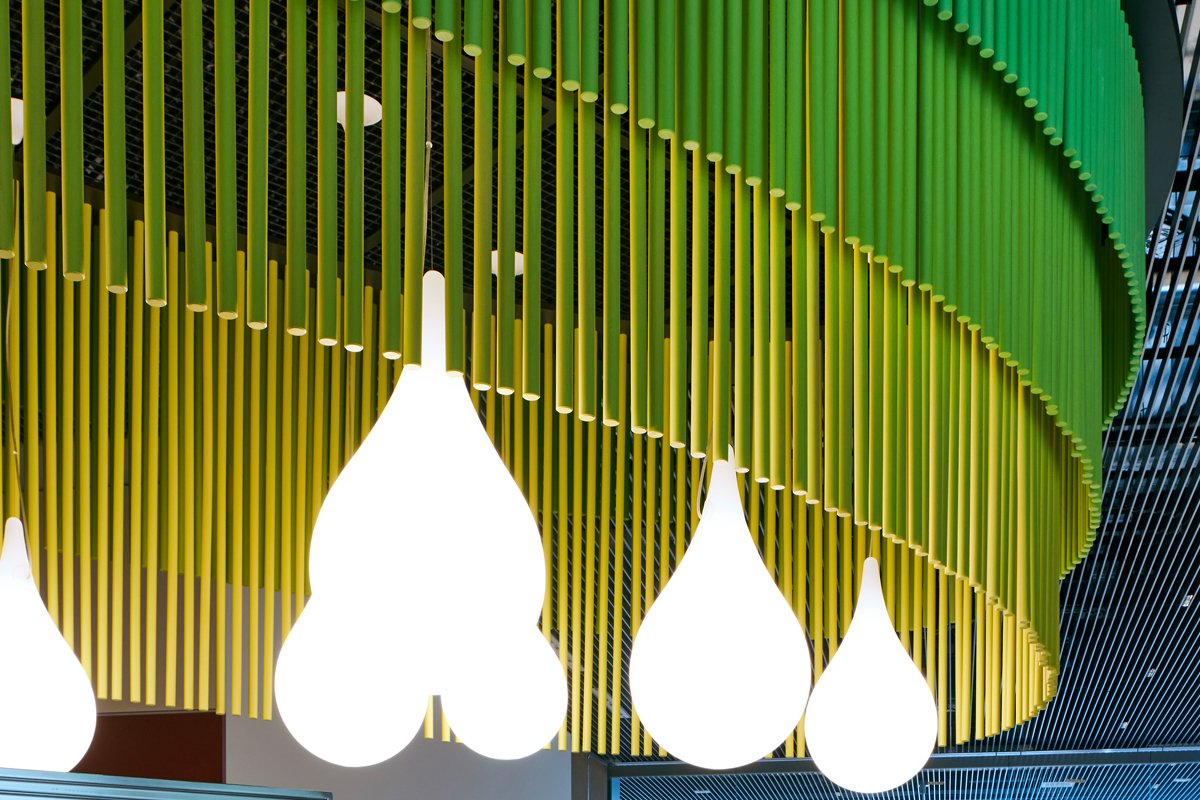 MTU Aero Engines AG is one of the world's leading manufacturers of aviation engines. From its headquarters in Munich, the company manages its global activities. For the more than 5,500 employees at the site, a new communication centre with company catering was built, for which brandherm + krumrey designed not only the catering areas but also a shop. The clearly structured sales area offers employees an inviting ambience where they can buy snacks and refreshments during their day-to-day work at the office. The two-storey new building for company catering, implemented by RKW+ Architektur, was designed by the Darmstadt-based architectural firm Lämmler und Falkenstein. Instead of a traditional canteen, a meeting place was created that invites communal dining and exchange. Besides the catering and meeting rooms, the overarching design concept conceived by brandherm + krumrey also includes the shop on the ground floor. With an open entrance area, it invites employees to purchase small snacks and chilled beverages. To facilitate orientation, the sales and work areas are organised along the walls and have large labels indicating the range of products on offer. The "Green Centre" serves as an eye-catching feature – a centrally placed oval presentation counter highlighted with bright green wall tiles and a suspended oval ceiling element made of green slats and droplet-shaped lights. Shades of green, in more subdued tones, can also be found on the walls and shop shelves, conveying a sense of freshness. In contrast, the other half of the room designed in warm red shades conveys a sense of cosiness and contributes to the pleasant ambience. Thus, the shop is not simply a functional space, but at the same time a place of well-being that turns self-catering in the office into a sensual experience.
Client
MTU Aero Engines AG
Location
Munich
Completion
2023
Architect
Lämmler und Falkenstein/RKW+ Architektur
Project team
Susanne Brandherm, Janina Jaekel, Anke Knauf
Photos
Joachim Grothus
People in the rooms
Promotion of well-being and emotional approach with warm and fresh colours, needs-based planning after exchange with the human resources department and works council
Spatial quality
Creation of an individual spatial quality, design for all senses, restrained lighting concept, pleasant colour scheme.