Office for TechMinds in Hamburg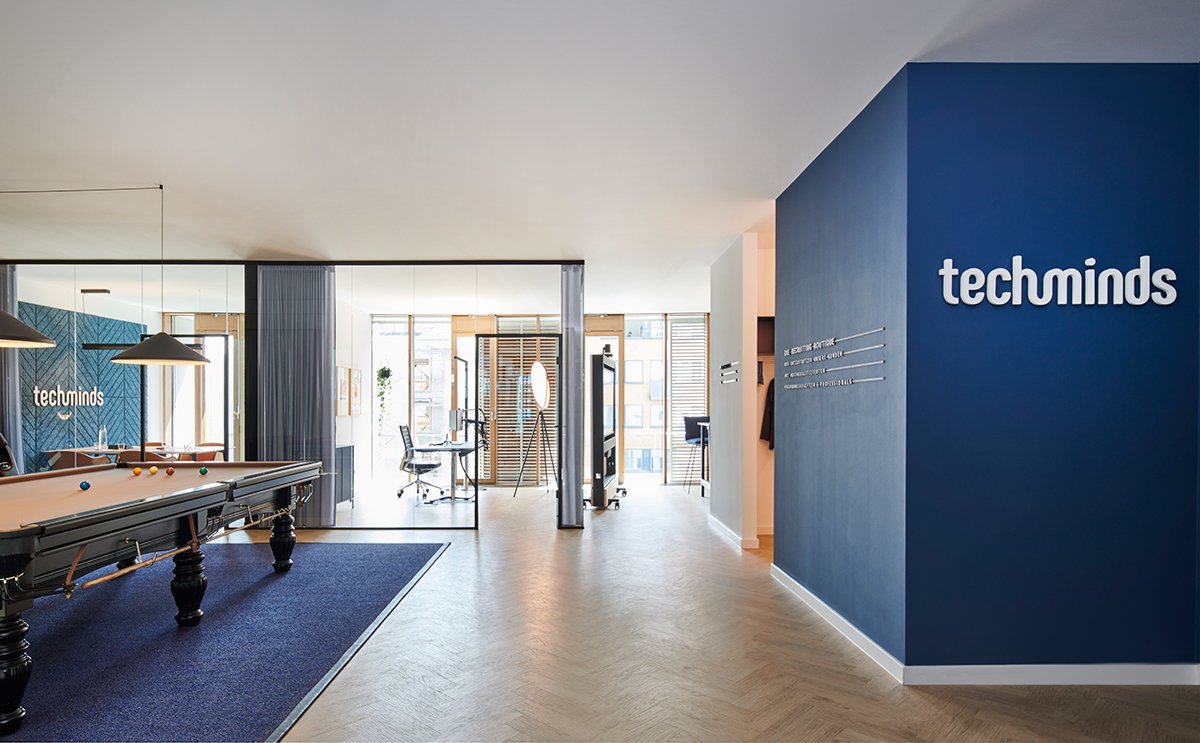 TechMinds describes itself as a boutique-style personnel consulting firm. This claim was to be reflected in their new headquarters in Hamburg's city centre. The agency asked for an upscale, modern working environment with a familial atmosphere. Based on these ideas, brandherm + krumrey developed a multi-space concept that allows for focused work as well as teamwork and informal encounters.
TechMinds specialises in placing highly qualified professionals in the industrial and digital sectors. The philosophy of this young company is reflected in the agile structure of its new headquarters. Spread across nearly 300 square metres in an office building, designed by Milanese-based architect Antonio Citterio and located near the Binnenalster, the workspace is characterised by inviting openness. Seamlessly connected workstations, meeting rooms and a spacious community area with an adjacent kitchen offer flexible working options. The office also boasts a central patio for relaxed gatherings or working outdoors. The overall design exudes elegant lightness. Filigree furniture in brown and beige combine with natural wood-look flooring and green plants to create a serene overall ambience. Walls, carpets and acoustic elements in the corporate colour blue add colourful splashes and a homely touch. This results in a trustworthy and appealing work environment that can readily and pragmatically adapt to changing requirements.
Client
TechMinds GmbH, Florenz Klasen
Location
Hamburg
Completion
2022
Project team
Anni Rosenberg, Milla Anttila
Photos
Joachim Grothus
Building in existing contexts
Conversion, modernisation and upgrading of existing office spaces
People in the rooms
Needs-based planning, promotion of well-being and identification, creation of different work situations both indoors and outdoors
Spatial quality
Design for all senses, natural lighting and restrained lighting concept, measures to improve room acoustics, pleasant colour scheme
Material selection
Light colours, natural woods and textiles