AKD Apotheke in the Old Town Hall of Deutz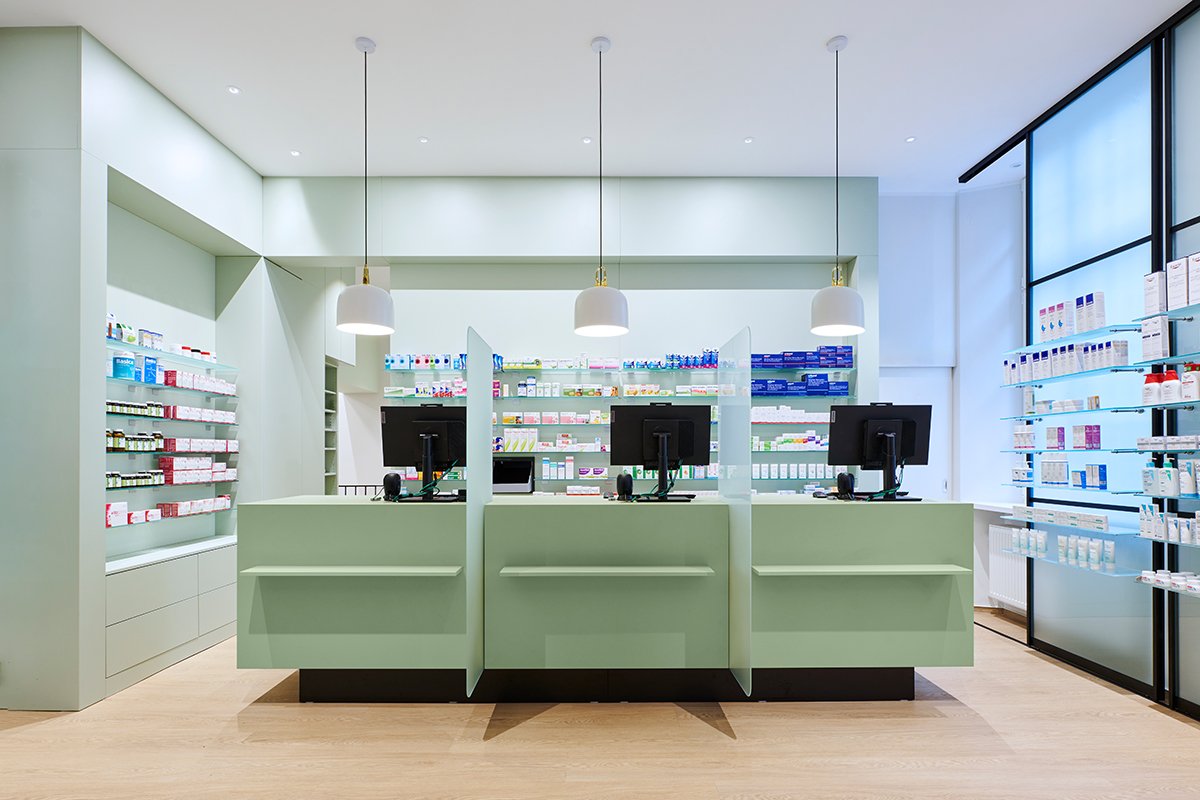 A devastating fire completely destroyed the pharmacy "AKD Apotheke", located in the Old Town Hall in Deutz, Cologne. brandherm + krumrey used the redesign to create a new layout and restructure the sales areas, creating a new salesroom with an office for emergency service, a screened-off area for intensive consultation and an attached cosmetics studio. Not only were the specific requirements of the pharmacy taken into account but also the needs of the pharmacist and her staff for a workspace with a feel-good ambience. The AKD Pharmacy is located in the baroque old building of the former town hall of Deutz, a district of Cologne located on the right bank of the Rhine. To better utilize the existing space and ceiling height of the store on the ground floor, brandherm + krumrey designed an open spatial structure. Additional space was gained through the modernisation of technical installations, including the relocation of the picking machine to the basement. Already from the outside, the newly designed sales area conveys inviting openness: a generously glazed entrance area guides customers from the paved passageway of the building into the interior. There, they are greeted by pleasant spatial clarity. While the shelves with the displayed medicines line the walls, the sales counter is placed freely in the room, serving as an eye-catcher. Large glass surfaces emphasise this tidy openness and create a bright overall impression. Thus, full-height translucent sliding elements in front of the windows provide additional shelf space and simultaneously filter the incoming light. This bright and calm ambiance is enhanced by the colours chosen for the walls and furniture in graduated shades of green. Delicate-looking structures made of dark metal profiles for the glazed entrance front and individual shelf elements give the room additional lightness. This is further emphasised by a sensibly balanced lighting concept that allows for the staging of the sales areas while also creating a welcoming atmosphere.
Client
Sarah Bast
Location
Cologne
Completion
2023
Project team
Susanne Brandherm, Louise von Stromberg
Photos
Joachim Grothus
People in the rooms
New spatial concept combining the needs of employees with the special requirements of a pharmacy; clear and open spatial structure; subtle natural colour scheme; sufficient space for private consultation; unobtrusive separation of the intensive consultation area.
Spatial quality
Natural lighting and sensitive lighting concept for basic and accent lighting and bright overall impression; visual and acoustic separation for intensive counselling; efficient use of space with sliding glass elements.
Choice of materials
Inviting and friendly atmosphere due to generous glazed areas; restrained choice of materials and colours; efficient use of the available space; space-saving use of lightweight shelving and built-in constructions.